Writing better stories together.
Whoever you are, wherever you're from, you are welcome here.
At West Cobb Church we create safe spaces specifically for middle and high school students to help them explore their identity in Christ. We partner with students and parents to teach the importance of gathering within the church community, taking ownership of growing their faith, giving of their time through volunteering, and go into their spaces telling others of their story.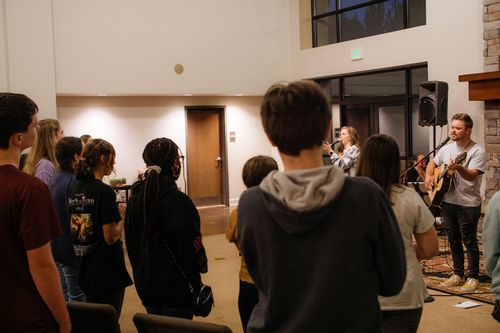 Sunday mornings & Wednesday Nights
On Sunday mornings we invite our students to come and join all members in the auditorium for Sunday morning worship and message.
Our middle and high school students join together to have an incredible night full of games, worship, large group message as well as small groups to help them dive deeper into their lesson.
Graduation is around the corner and we are excited to celebrate with your students. Senior Recognition is scheduled for May 22nd. We will celebrate your student in the 10:30 worship service. Please go here to register your student for an incredible Sunday as we honor them. Let me know if you have any questions
Get Connected. Go Deeper. Grow your story.
Small groups are a great place for students to join together to discuss the highs and lows of student life. These groups are a safe place for students to learn how their stories connect to God's greater story. Small groups are separated by gender and grades.
If you are in middle school or high school and are looking for a great way to connect with God and others join us for an amazing weekend at Camp Gideon, beautiful 37-acre camp and retreat center located on Lake Altoona.
We'd love to hear from you. Fill out the form below to get started.
Follow West Cobb Students on social media.